Engaging Learning Environment
YOUR CHILD WILL DEVELOP SELF-ESTEEM, INDEPENDENCE AND LANGUAGE
Our goal is to offer your child an academic realm that is planned with exciting activities. Their days of Playing to learn will be fun and productive. Considering ourselves to be the first guide in a child's learning journey, we derived the best learning tools readily available to help a child to play and learn together. Play to Learn provide the opportunity to every child which helps them to do the best (no matter what their play is) by: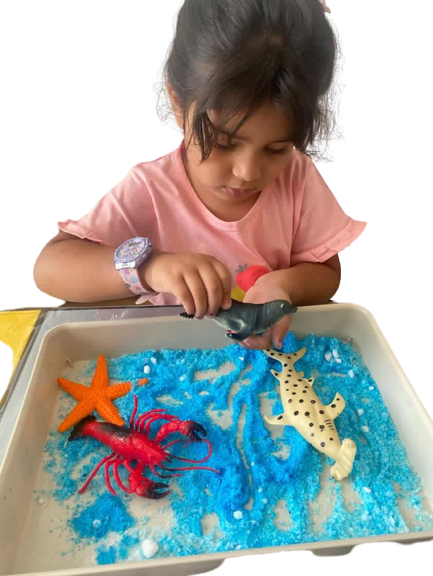 Providing such a course embedded to develop child's confidence and curiosity.
Supporting child's development through play.
Evolving and enhancing children's skill to become proficient, independent and successful human being.
Fostering a child's learning, and developmental growth thus giving them a sense of self-worth.
Supporting and actively encouraging the natural curiosity of a child about themselves and around them.
Introducing stories, music, rhymes and discussion related to the themes, thus facilitating a rich literacy environment which helps in the language development of a child.
Incorporating music and other related activities in our planning.
Our program incorporates the best teaching practices and a well-balanced early childhood learning platform to promote positive learning outcomes in children (3 to 6).
A significant, important and valuable relationship along with responsive interactions of our pedagogical approach ensures that every child in our setting is at the heart of our learning.
Visit Us
Suite no 1/2/3 2nd floor Sector C Plaza A-8 Earth Avenue Bahria Enclave
Islamabad.
Monday:        09:00AM – 12:00PM
Tuesday:        09:00AM – 12:00PM
Wednesday:  09:00AM – 12:00PM
Thursday:      09:00AM – 12:00PM
Friday:            09:00AM – 12:00PM
Monday – Thursday: 09:00 AM – 02:00 PM
Friday:                         09:00 AM – 12:00 PM